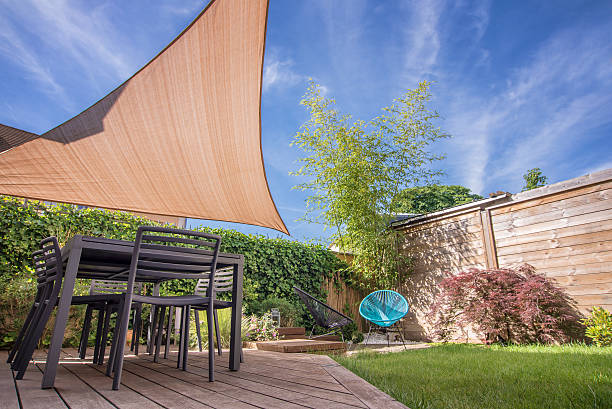 Maintenance of your home, garden or workplace can be a mammoth task. While regular cleaning and dusting go a long way in helping the indoors look up to the mark, the effort only amplifies when it comes to outdoor maintenance. But what if your time, energy, and resources remain considerably intact while maintaining the area outdoors or around?
With shade sails, it is possible to have a garden, home, or workplace that looks alive and aesthetically appealing. But those are not the only two perks of installing them. Here is a list of them for you to explore:
Primary Protectors
One of the first things that pop up when you think of a canopy or a shade is protection against UV rays, dirt, dust, rain, and moisture, among the long list of things that can damage or decrease the lifespan of your home or stuff placed under it at large. You may spend a significant amount on getting the perfect ceramic coating for your vehicle or the most exquisite tiled roof for your home. However, if there is nothing guarding or protecting things that make your life convenient, you can be in for a real mess. Overhead sails protect you and the things that matter to you in the best way possible by increasing their longevity.
Another valuable or rather invaluable feature of overhead sails is that they not just guard you against external factors like harsh rays, rains, and flies but also intruding eyes. Nobody enjoys the privy of interfering eyes, nosy neighbours, or passer-by gaze. Be it your patio, rooftop, or simply garage space; sails are known to obstruct unnecessary view while safeguarding your area or things within.
Facilitates Space Management
Canopies or sails are an excellent way of using the available space in a utilitarian manner. If you're looking to host a backyard party or convert the empty space in your compound into a garage, cut through all the paraphernalia and go ahead with overhead sails, and you'll be done! With canopy shades, you can use the existing area more effectively since they make the area look more spacious and airy. Most importantly, they also add aesthetic appeal to a place.
Considering how overhead sails enable your area to look accessible and less cramped up, ventilation is another vital boon they offer. Nobody enjoys stuffed spaces as they are very unappealing to look at and render a dull, gloomy vibe. Hence outdoor sails are a valuable investment to make as they leave your space looking airy and vibrant, quickly uplifting the mood, boosting productivity, and safeguarding the entire area.
Strengthens Market Value of Your Home
Homes with shade sails installed are known to have a higher market value or sell at a higher rate than homes without them. And for all the right reasons. They help maintain the exteriors of the house, making it look relatively bright. Besides, they also make the house look appealing to prospective buyers who are likely to notice everything with utmost care. It also helps build confidence in the property and trust in the owner as it is a sign of effort and maintenance.
Easy to Install and Maintain
And finally, another practical reason to invest in sails or canopies is that they are very easy to install. Most often, the manufacturing companies themselves take it upon themselves to ensure the installation of sails. In that case, you have nothing to worry about. If you have to install shades by yourself, a toolbox and another helping hand are all you'll need. Over and above, they are effortless to clean too. A hosepipe and some detergent are the only two things you'll require to maintain and keep them shining in the long run.
Whether you're looking for something to protect your home or a portable roof to carry to your next picnic spots, overhead sails are the perfect additions you need for an effective, cost-friendly and visually appealing investment.
Author name: Alison Lurie