If you are intending to practice Yoga at home but don't know what to prepare, then check out this article.
There are many benefits to practicing yoga at a yoga studio. You get guidance from a coach, you meet other yogis in your community, and you learn more about the practice from those around you. These are all important benefits and should not be overlooked or taken lightly when it comes to Yoga.
But if you don't live near a gym or you're the on-the-go type and have trouble making time for a regular yoga class, practicing yoga at home can help you fit in with your life. themselves seamlessly.
For example, you don't have to wait for a specific class time or commit to an hour-long session; You don't need to prepare clothes, accessories, drive to the studio or spend extra time talking to yogis. Just choose the time and length of the workout that works for you and start "om" at home.
Things you need to prepare when practicing Yoga at home include
Assorted accessories
Technically, when doing yoga at home, you don't need to prepare anything but your body. However, having accessories that you enjoy and are proud to own can help you create an atmosphere that makes you feel more motivated to exercise.
Also, investing in a nice yoga mat and a few props can make you feel like you have to follow through on your good intentions and earn back the money you spent practicing at home.
The good news is that yoga doesn't require a lot of equipment, so even if you buy high-end equipment, you're still looking at committing to a total cost of less than a few million.
Veronica Parker, a yoga teacher, and Kundalini meditation instructor suggests having the following items ready before you start practicing yoga at home:
A pair of yoga blocks (yoga block)
A belt or yoga strap
A cushion or pad for meditation
Of course, there are hundreds of brands and styles to choose from when it comes to home yoga, a fact that can be overwhelming for beginners.
Your highest-cost item may be your yoga mat. For a high-quality carpet, you can expect to pay from a few hundred to several million
You can buy all kinds of Genuine Yoga accessories at iFitness.vn if needed.
While you may want to buy a thick, padded mat, Parker recommends choosing thinner ones because they're easier to practice balancing poses. Look for support mats that are 3 to 5 mm thick.
Over time and as your practice matures, you may decide to purchase more equipment for your home gym, but there's no need to buy more in the first place. Parker has one more trick. "If you don't consider yourself very flexible, it helps to have an ergonomic chair that you can use for extra support during your workout."
Choosing a Yoga Practice Space
Similar to Yoga accessories, you also don't have to choose a space that is too large, but that doesn't mean you don't need to value your home yoga space.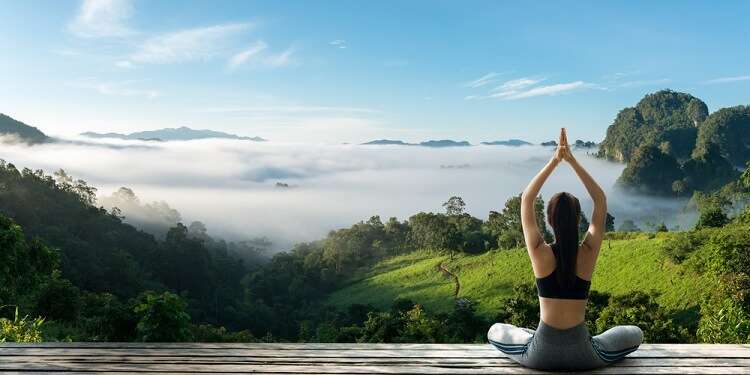 The practice space does not need to be too large, but it needs to be neat and uncluttered, it can be a bedroom, living room, or balcony, as long as it is neat and quiet.
Even if you can't dedicate an entire room to your practice, consider using visual cues to delineate your yoga space.
"I like to create an altar where I put things that inspire my practice. For example, I have my favorite lavender scented candle, a photo of my yoga instructor, Gurmukh, a photo of Yogi Bhajan, and three crystals to amplify the energy.", said Parker. "REMOVEAnything that inspires you to sit down and keep up with your yoga practice."
Find your flow
There are thousands of options for good home yoga instruction programs. You can go through these programs before starting to practice, this way you can practice different styles of yoga and decide which style you like.
This is especially important for those new to yoga as not all yoga classes, instructors, or styles are the same. It can take some effort to "find your flow" and work out consistently every day.
Other popular streaming options include YogaDownload, Grokker, Glo, and Black Swan Yoga TV. Yoga apps, like Pocket Yoga and Asana Rebel, offer yoga programs on the go.
And if you're used to the usual poses and you feel comfortable after an audio workout, YogaDownload offers free 20-minute streams via their podcast.
Most streaming apps and services cost between $5 and $20 per month, but if you're not sure which is right for you, try a few of them. Most all offer short-term free trials with fairly simple cancellation of the subscription if you decide you don't want to subscribe.
Organize your time
The good thing about practicing yoga at home is that you're not limited to a specific schedule or length of practice. But that's also a downside
You don't have to do yoga at the same time every day, but if you don't intentionally schedule your yoga time, chances are you won't be doing it on schedule.
Go ahead and look at your weekly schedule and decide in advance when you will do yoga and how long each yoga session will last.
Even pre-select the classes you plan to "attend" to reduce decision fatigue that can get in the way of your decision to start. Then, put practice times in your calendar and treat them like an important appointment not to be missed.
If you have to cut back on a workout from time to time, or if you have to reschedule, that's okay, but don't make it your regular routine.
How long each yoga practice lasts is up to you, whether it's 15 minutes or 90 minutes (fortunately, there are plenty of streaming options for all lengths of practice), but Parks advises beginners Starting yoga at home should aim for 35 to 45 minutes.
This time helps you get used to the typical class format without overwhelming you, and it also makes it easier to form the habit of exercising regularly.
Over time, feel free to experiment with longer programs to increase your total weekly workout time.
Start making
The only thing left to do is get started! But remember, like everything else, you need a learning curve.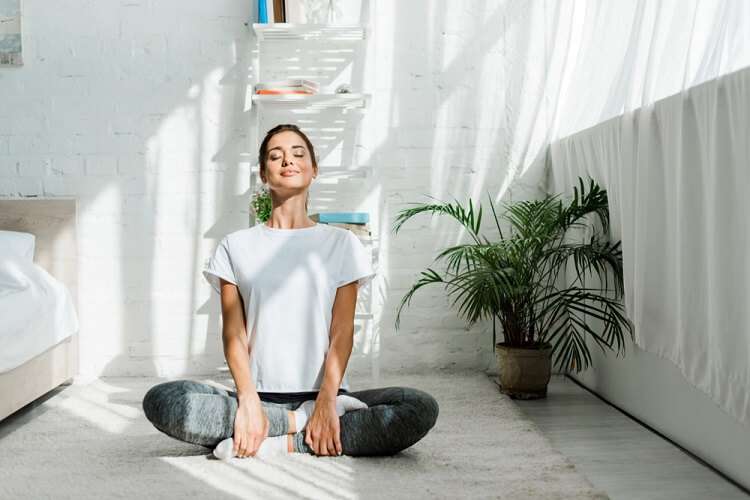 Parker said: "Be gentle with yourself and accept your place on every step. It's a practice method, so it will build on its own. Your mind and body are united as you perform the poses. Connect with your breath and experience the incredible realm of yoga, flow, and connection."
Listen to your body and don't force anything. Make amends or simply rest in child pose when necessary. Your flexibility and flow will improve over time.
If you're looking for a place to start, check out the beginner-friendly yoga exercises here.
Epilogue
Practicing yoga at home generally does not need to prepare a lot of complicated equipment, you can just have a mat, a neat enough space to put a mat, and a serious practice spirit can completely start. right.