If you're a true runner, you probably don't need to do extreme core exercises to get six packs or lift heavy weights. Your goal is to build it strong enough to be able to support you in running for long distances.
However, if you only do exercises like crunches or planks, it's not enough to help you build a strong core to help you conquer long races, you will need to do some other core exercises. again. One of them is the Hollow Hold.
The key to performing the Hollow Hold is the ability to squeeze, a key function of the core muscles to support our spine. A strong core will help you lift stronger weights, as well as help you become stronger and more flexible when running.
See also: Core exercises for long-distance runners
How does Hollow Hold work?
First, you need to prepare a gym mat to lie on, if you don't have a mat, order one here.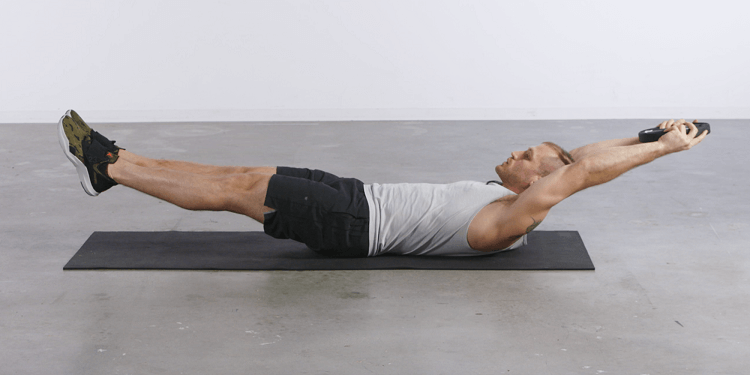 Spread the mat on the floor, lie on your back, get into egg position with your knees close to your chest and lift your shoulders off the floor.
Press your lower back to the floor, which is important when doing this exercise.
Then straighten your legs as far as you can and raise them about 10-20cm above the floor, while straightening your arms behind your head. Note that the shoulders should still be up and not touching the floor.
Squeeze your abs and glutes to create a full-body stretch, hold this position for a few seconds, and then repeat the whole movement. The longer you hold, the more your core will be challenged.
After you are able to hold 1 minute in this position, then you start doing 3 variations of the Hollow Hold below.
3 variations of Hollow Hold by runners
Do each exercise for 40 seconds with 2-3 reps, resting 20 seconds between reps.
1. Tipping Hollow Rock
This variation will help you combat unnecessary body rotation when running.
Start in a standard Hollow Hold position
Stay in that position, but now you'll shift your weight to the right
Hold the print for 2 seconds, return to the original position and do the same for the left side.
2. Hollow Rock
Start in a standard Hollow Hold position
Lift your legs slightly higher to build momentum to swing your body up and down like a seesaw.
When shaking your body, you must still keep your lower back pressed to the floor and the position should not change.
3. Anti-Rotation Hollow Rock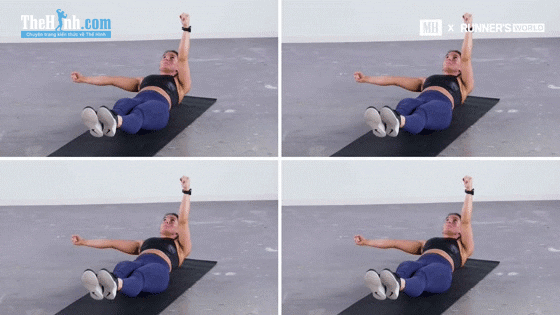 As its name suggests, this variation of Hollow Rock will help you combat body rotation when running.
Start in a standard Hollow Hold position.
Rotate your right hand to the right, bring your left hand up in front of you to form a L . shape
Then do the swing as in exercise 2. After enough time, switch sides and repeat.