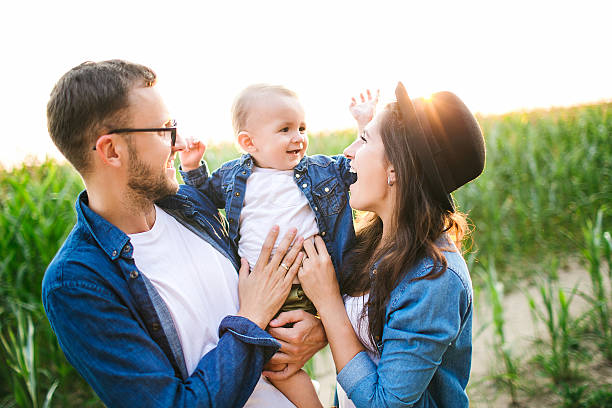 Denim was born in 17th century France and later on became a popular workman's clothes fabric in the early 1850s in San Francisco, California. Fast-forward to today, and denim remains to be one of the most popular fabrics across the globe.
Denim is made of cotton or a cotton-synthetic fibre blend. It is cool, comfortable, durable and absorbs sweat reasonably well. But is it right for your little ones? Before you go on an all-out shopping spree for baby denim, here's what you must know about denim.
Types of Denim Jeans
Not all denim is created equal. To choose the best one, read on.
Indigo denim is one of the most common types of denim and is characterised by a blue right side and a lighter blue or almost white interior.
Stretch denim is weaved with an elastic material such as spandex for added flexibility.
Crushed denim undergoes treatment to achieve a wrinkled, carefree look.
Acid-wash denim is bleached to achieve that bright, faded look.
Dry or raw denim forgoes washing after getting dyed to create a stiffer and rougher texture.
Sanforised denim undergoes treatment to prevent shrinking in the wash.
Not all denim types are appropriate for a baby's sensitive skin. Health, safety and comfort must be carefully considered when choosing baby denim. Therefore, read labels thoroughly and put brand new denim through the wash to remove treatment chemicals that irritate baby skin.
The Perks of Choosing Denim for Your Tots
When appropriately chosen, denim can be your little one's best friend. Here are its many perks.
Denim is soft, lightweight, comfortable and stretchy, making reaching, leaping, and climbing easier for your little adventurer.
Denim promises durability. Once your baby starts crawling, expect the knees to create constant friction with the floor. Denim is durable enough for this endless chafing without wearing out too soon. And if your baby starts tottering about outdoors, denim protects from bruises and scratches without being restrictive or suffocating. A long-sleeved denim onesie, for instance, can protect baby skin from harsh elements like wind and sun while still making a diaper change easy and practical.
Denim weaved with recycled polyester is softer on the skin and the environment and is quick to wash and dry.
Innovated denim specially designed for young ones possess added elasticity for freedom of movement as well as comfort. Denim jeggings, for instance, fit comfortably like a second skin to avoid the chafing of your baby's chunky legs.
Denim is easy to maintain. If you follow care instructions religiously, baby denim can survive unscathed no matter how active your baby can be. This also means that you may yet be able to hand them down to younger siblings, saving money in the process. Babies grow out of their clothes quite quickly, and babywear, after all, can be a bit pricey.
Quick Tips On Denim Care
Before putting denim through the wash, turn them inside out. Make sure that zips and buttons are closed.
Never subject denim to too much heat during a wash. A maximum of 30 degrees Celsius will suffice.
When washing by hand, soak in the cold to lukewarm water for 30 minutes maximum before scrubbing and rinsing with clean water three times.
Skip the tumble dryer whenever possible to avoid damage. Best if you hang to air dry in the shade without direct sun exposure.
Author name: Alison Lurie